With AIRA Modular Customizer you can fully re-program the internal signal path of Roland AIRA Modular effects. Compatible with TORCIDO, BITRAZER, DEMORA and SCOOPER, the AIRA Modular Customizer lets you re-patch an array of virtual sub-modules for complete control of each effect's signal path.
Flexible and infinite signal path
You can fully customize the internal signal path of AIRA Modular effects with an array of virtual sub-modules. Saving and recalling patches is possible in realtime and you can even share patches with other AIRA Modular effect users.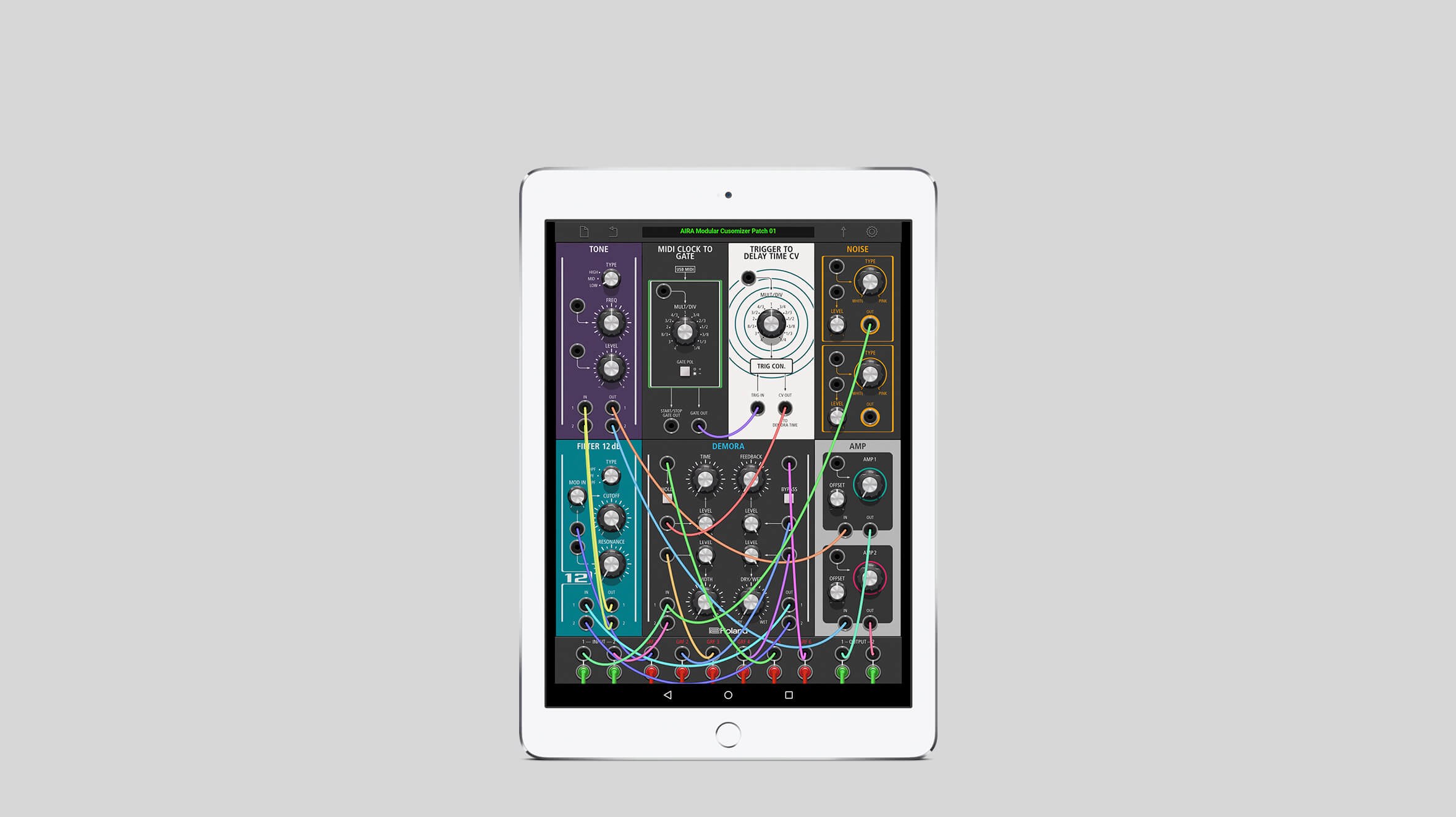 Variable virtual sub-modules
AIRA Modular effects include 31 virtual sub-modules.
They include:
LFO, ADSR, NOISE, SAMPLE & HOLD, RING MOD, FILTER 6 dB, FILTER 12 dB, TONE, AMP, MIXER, STEREO MIXER, CURVE CONV, GATE DIVIDER, TRIG TO CV DELAY TIME, MIDI CLOCK TO GATE, SHORT DELAY, TUBE CLIP, COMPRESSOR, NOISE GATE, 3 BAND EQ, LOGIC OPERATION, CROSS FADER, SWITCHER, ENVELOPER, TRIGGER TO LFO RATE CV, FILTER 18dB, FILTER 24dB, FORMANT FILTER, SAW OSCILLATOR, SQR OSCILLATOR, MIDI NOTE TO CV/GATE
Re-patch via audio signal
Connect the headphone jack of your smartphone or tablet to the REMOTE IN jack on any AIRA modular effect module and you can customize the signal path in realtime. Make sure to set the volume level of your mobile device to maximum.
Please note the maximized volume level of your mobile gear.
Compatible models