TD-17
Become a Better Drummer, Faster
When you're serious about drumming, you need a kit to match your ambition. The V-Drums TD-17 series lets your technique shine through, backed up with training tools to push you further. Combining a TD-50-class sound engine with newly developed pads results in an affordable electronic drum kit that's authentically close to playing acoustic drums – accurately mirroring the physical movement, stick coordination and hand/foot control that every drummer needs. Meanwhile, an array of built-in coaching functions will track your technique, measure your progress and increase your motivation. Becoming a better drummer is still hard work, but the TD-17 can help you get there.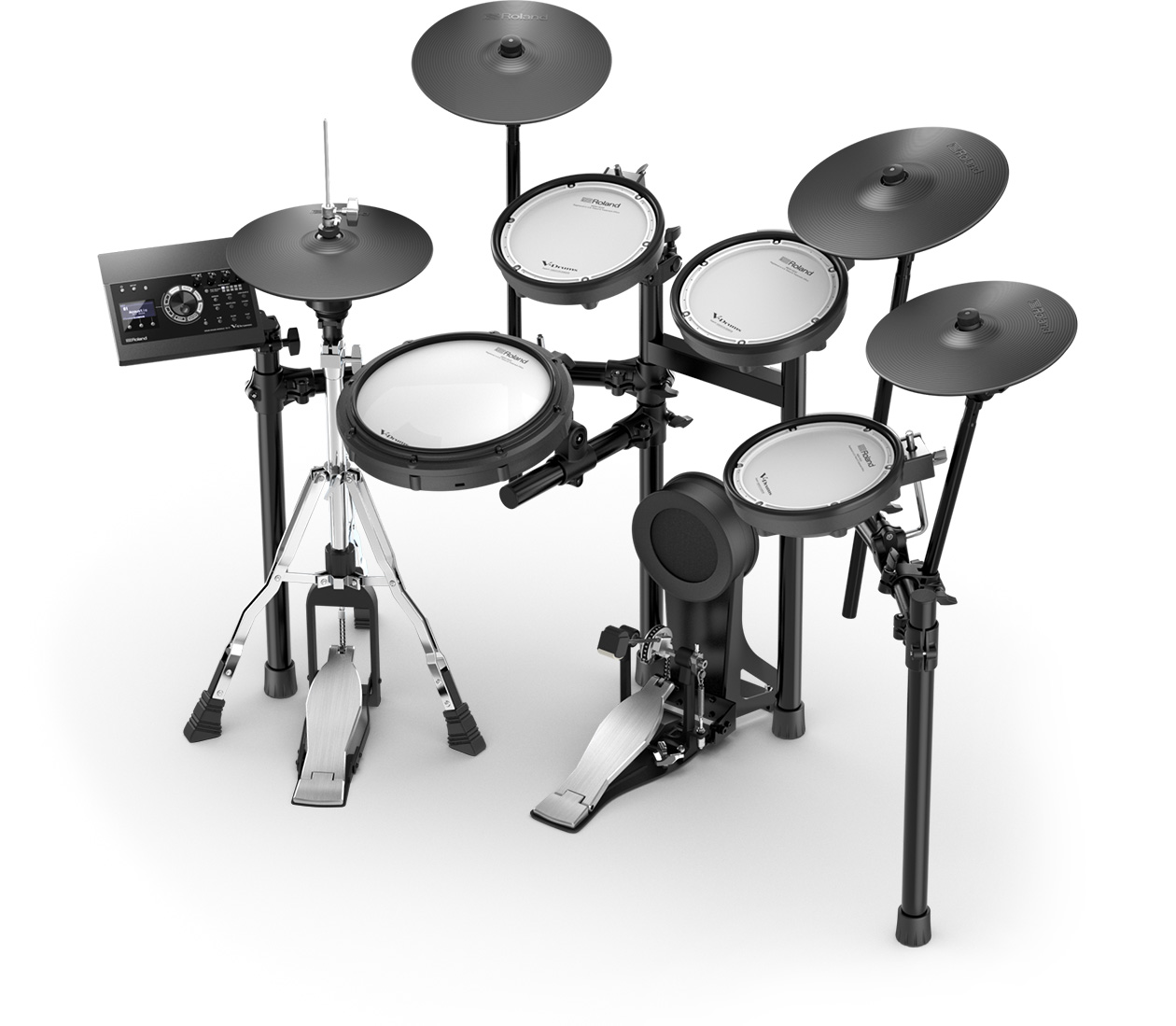 Authentic Playing Feel and Skill-Building Tools
If you regularly play acoustic drums, you shouldn't have to change your playing style to use an electronic drum kit. You can use the same playing techniques you'd use on an acoustic kit, without compromise, thanks to the large 12-inch snare* and a natural feeling hi-hat** that can even be mounted on an acoustic hi-hat stand. And being based on the flagship TD-50 sound engine, the sounds faithfully reproduce the character and tone of acoustic drums, with lightning fast response time.
PDX-12 12" snare pad included with TD-17KV/TD-17KV-L and TD-17KVX only
**VH-10 hi-hats included with TD-17KVX model only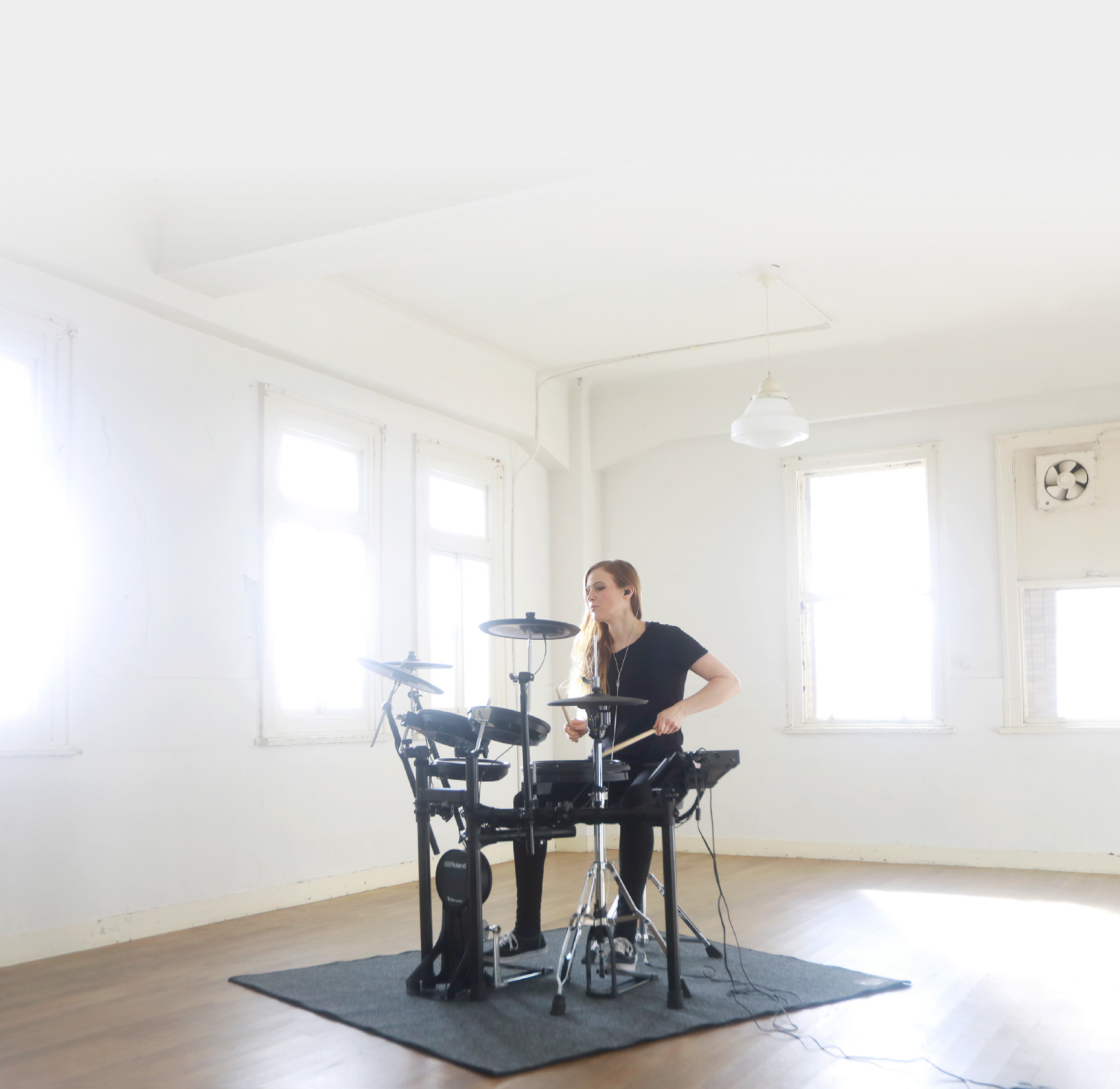 Learn More about Playing Feels
Realistic Pads for Uncompromising Performance
Some electronic kits use much smaller pads than you'd typically find on an acoustic kit – but because the drumstick has to hit the center of each drum, these smaller pads can actually feel further away from you. This is especially true if you've moved from playing a 14-inch acoustic snare to an 8-inch rubber pad. The 12-inch dual-mesh PDX-12 snare* is tension-adjustable for authentic and satisfying rebound, while the height of the snare hoop is much closer to that of an acoustic snare so you can hit an open rim shot with a natural stick angle. If you're serious about drumming, the TD-17 lets your technique shine through without asking you to compromise.
PDX-12 12" snare pad included with TD-17KV/TD-17KV-L and TD-17KVX only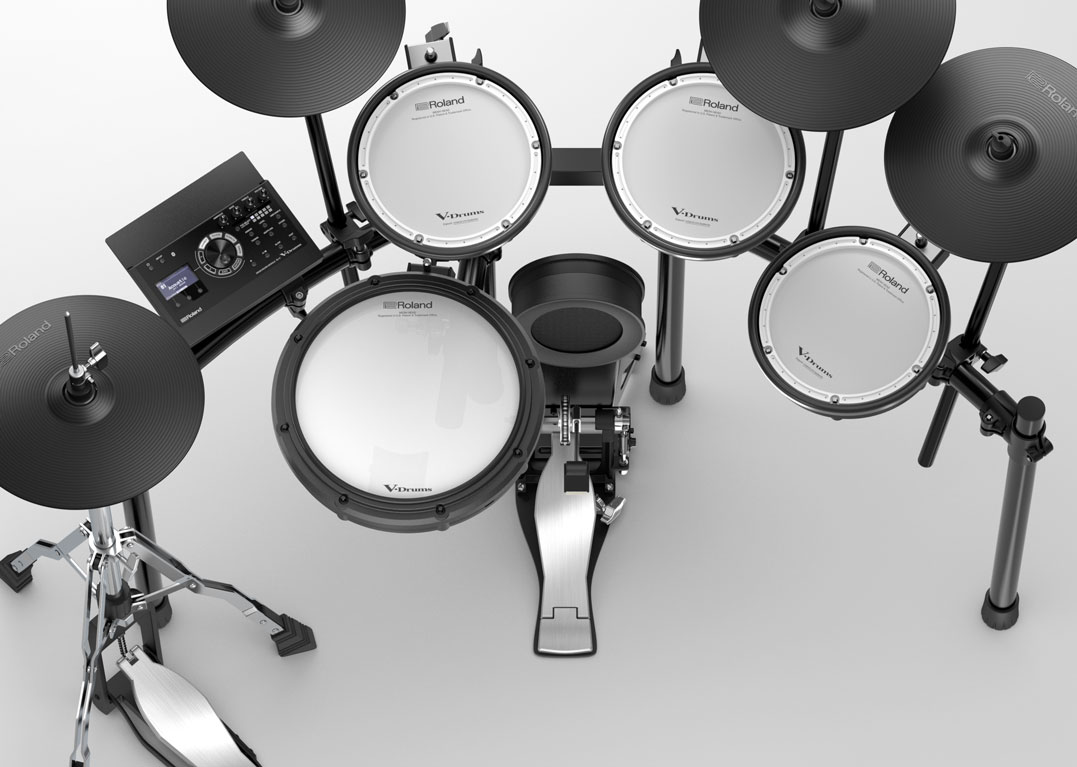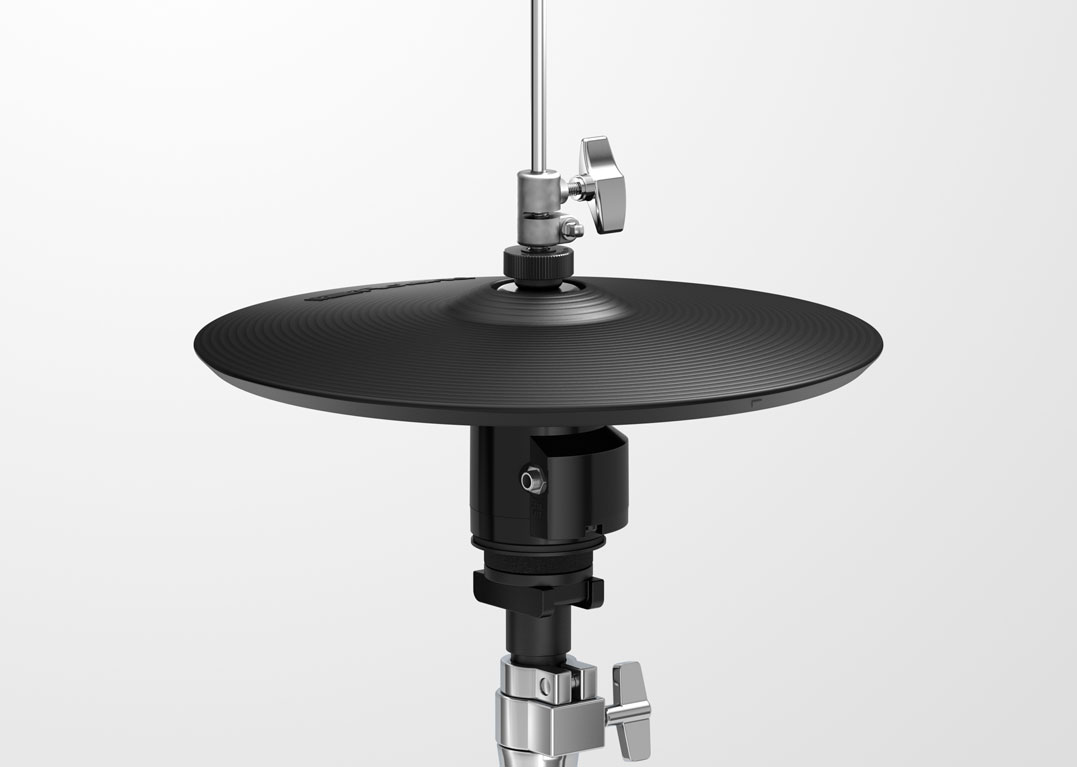 Ideal for Perfecting Hi-Hat Techniques
The TD-17KVX comes with the VH-10 V-Hi-Hat which uses a single-cymbal floating design that can be mounted and played on a traditional acoustic hi-hat stand. It provides the same playing feel as an acoustic hi-hat with natural rebound feel and swinging motion of the hi-hat cymbal. It also features open/closed motion and bow/edge sounds for executing traditional playing techniques to perfection.
*VH-10 hi-hats included with TD-17KVX model only
Great Sounds Lead To Great Performances
The TD-17's sound engine delivers a superior drumming experience thanks to Prismatic Sound Modeling technology inherited from the flagship TD-50 sound module. Begin playing and you'll notice a wider dynamic range and dramatic tonal changes, depending on where and how hard you strike the pad. From rim shots, rolls, flams, and ghost notes on the snare to dramatic crash hits, sustained cymbal swells, and half-open position on the hi-hats along with different sounds for the bow and edge, every nuance is detailed, accurate, and ultra-smooth.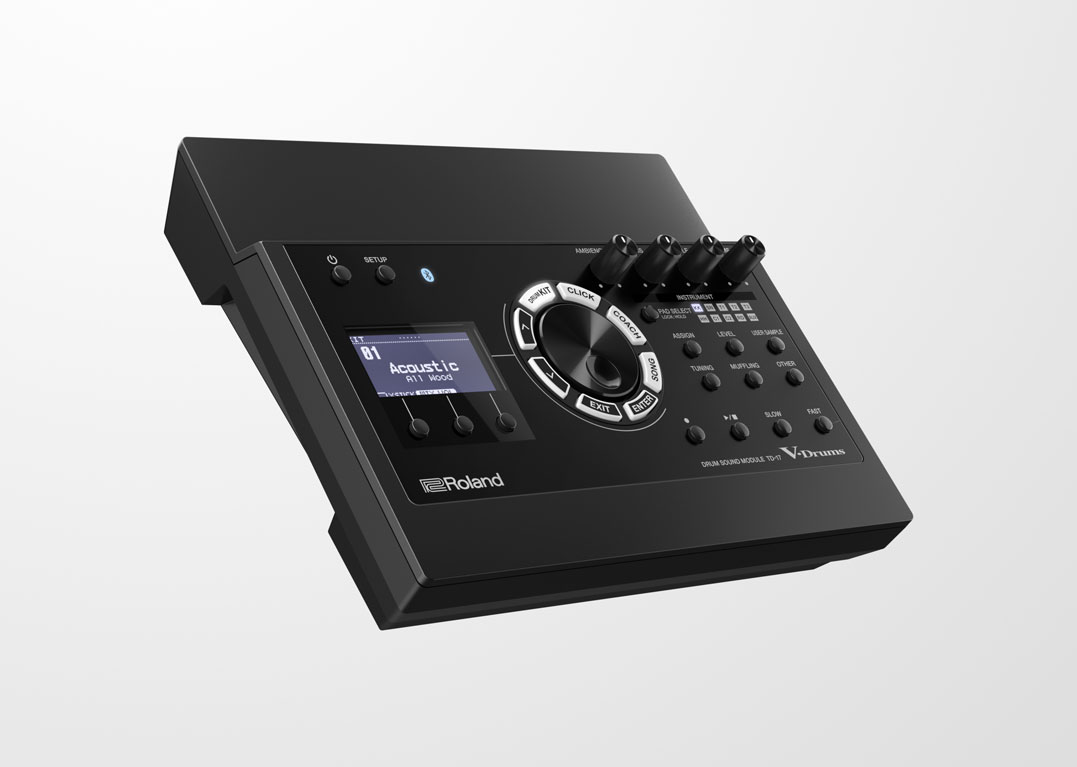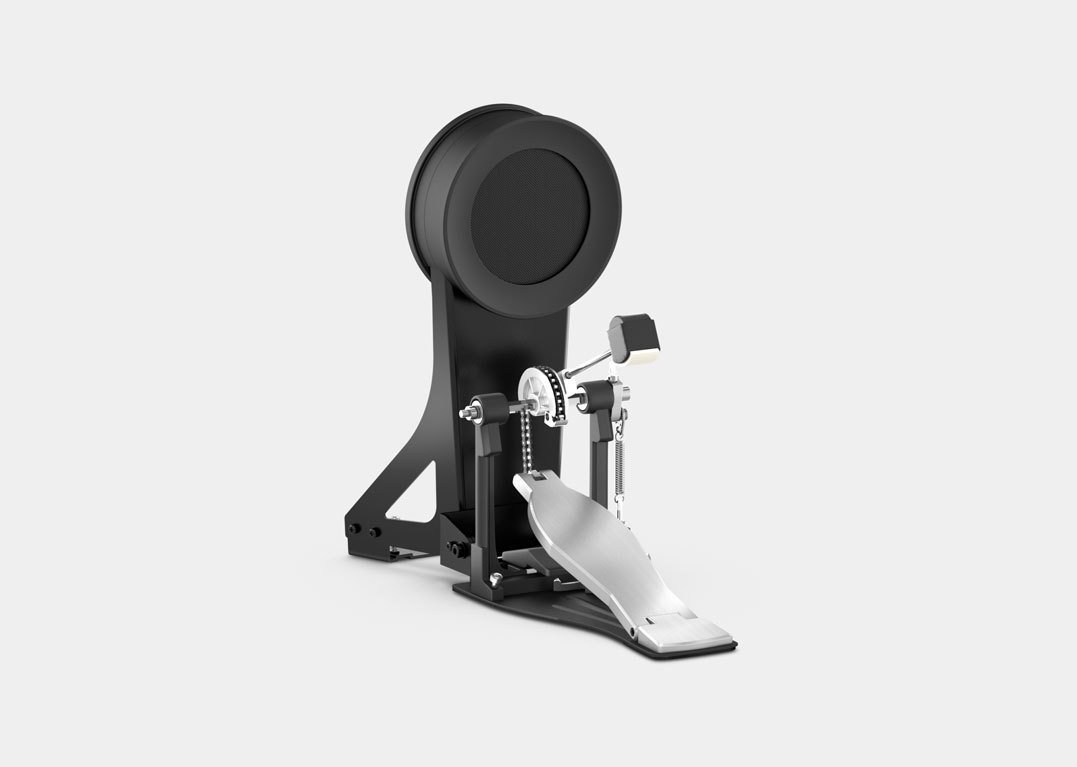 The Feel of an Acoustic Kick Drum (But Quieter)
A nice solid kick drum usually comes with a nice loud noise. Sometimes that's exactly what you want, but your family or neighbors may not feel the same way. The KD-10 kick pad absorbs much of the noise thanks to its rubber cover combined with a dedicated cushion, but retains that satisfying kick drum 'thud' when a beater buries into a bass drum head, so it's ideal for playing at home where loud noise may cause problems. It's compatible with all standard kick pedals, single or double kick.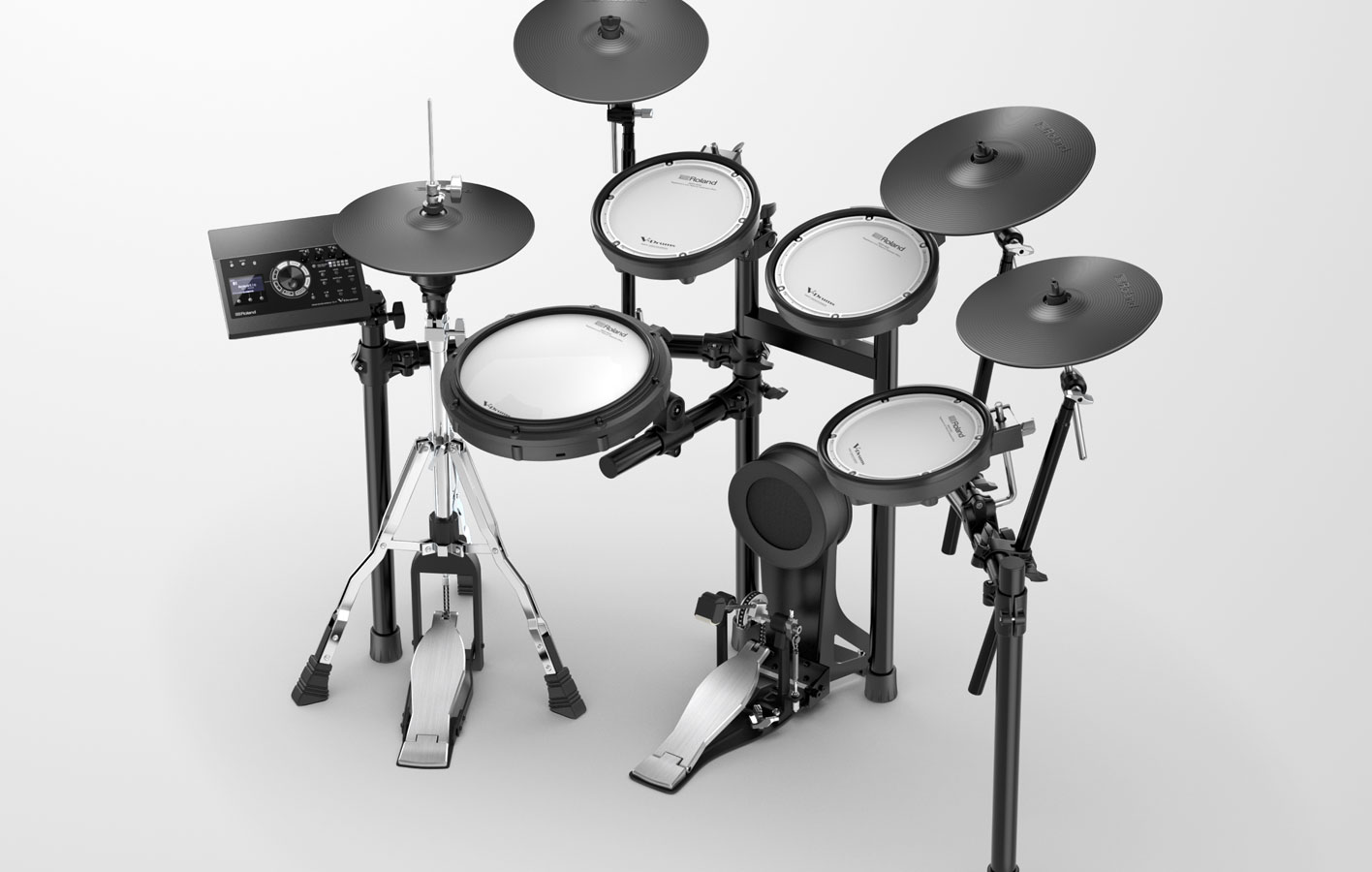 Acoustic Drumming Techniques Accepted Here
Although each model in the TD-17 series is compact, they're all kitted out for professional performance – especially the TD-17KVX which comes with two crash cymbals and the VH-10 hi-hat. Across the entire range, the position and angle of each pad is fully adjustable, while the distance between the pads and the drummer is similar to what you'd find on an acoustic kit.
The Essential Tools to Improve Your Drumming
First thing's first: drummers should be able to keep a solid beat before moving on to the exciting stuff. But mastering the basics is exciting too, as it provides a solid foundation for building your skills, not forgetting that tracking your progress is highly motivating too. The TD-17 module includes a Coach Mode to support your daily exercise regime. You can warm up, develop your sense of groove, tempo and timing, and even work on your stamina – all with a score that tells you how you're doing.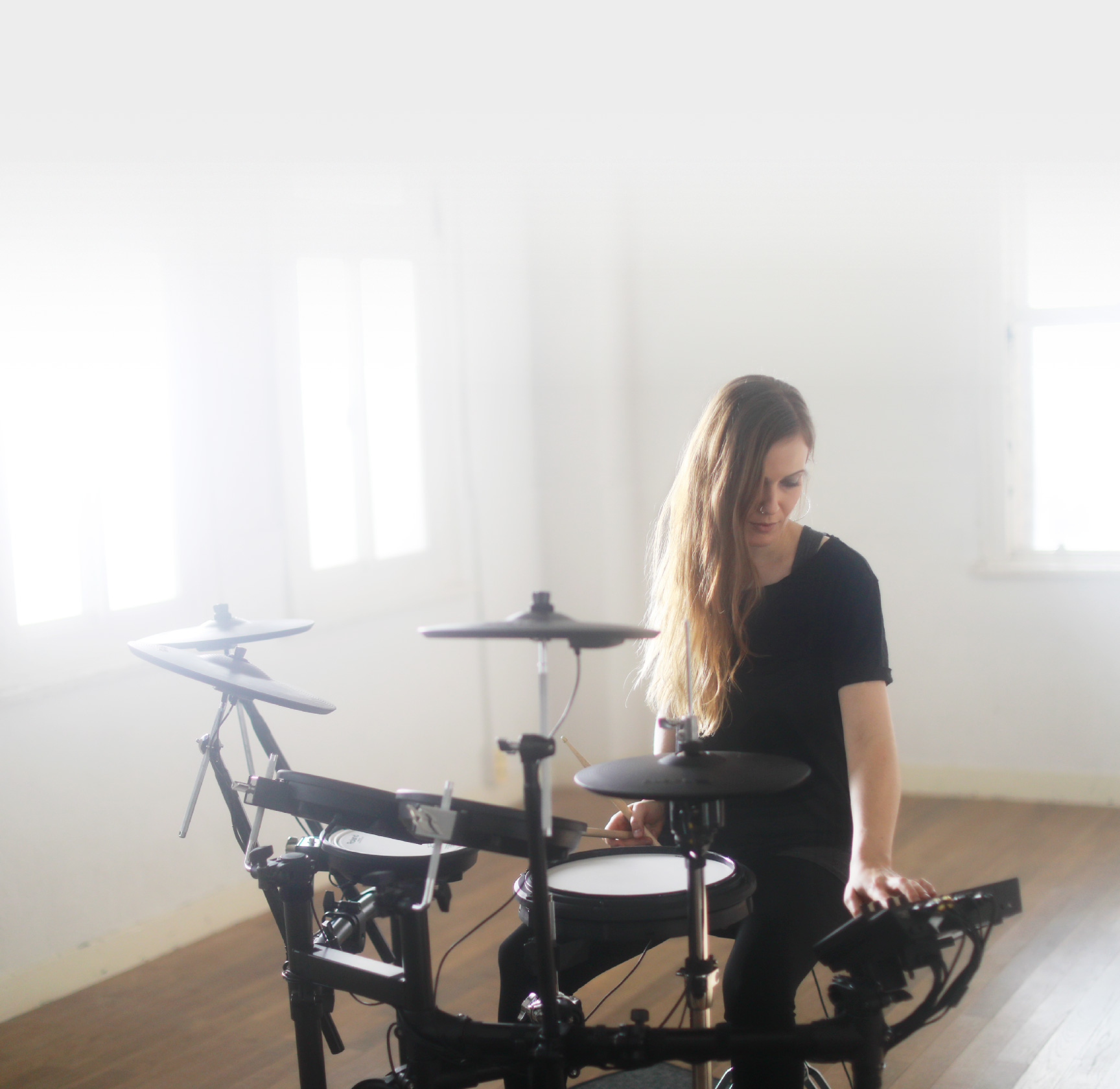 Learn More about Daily Exercise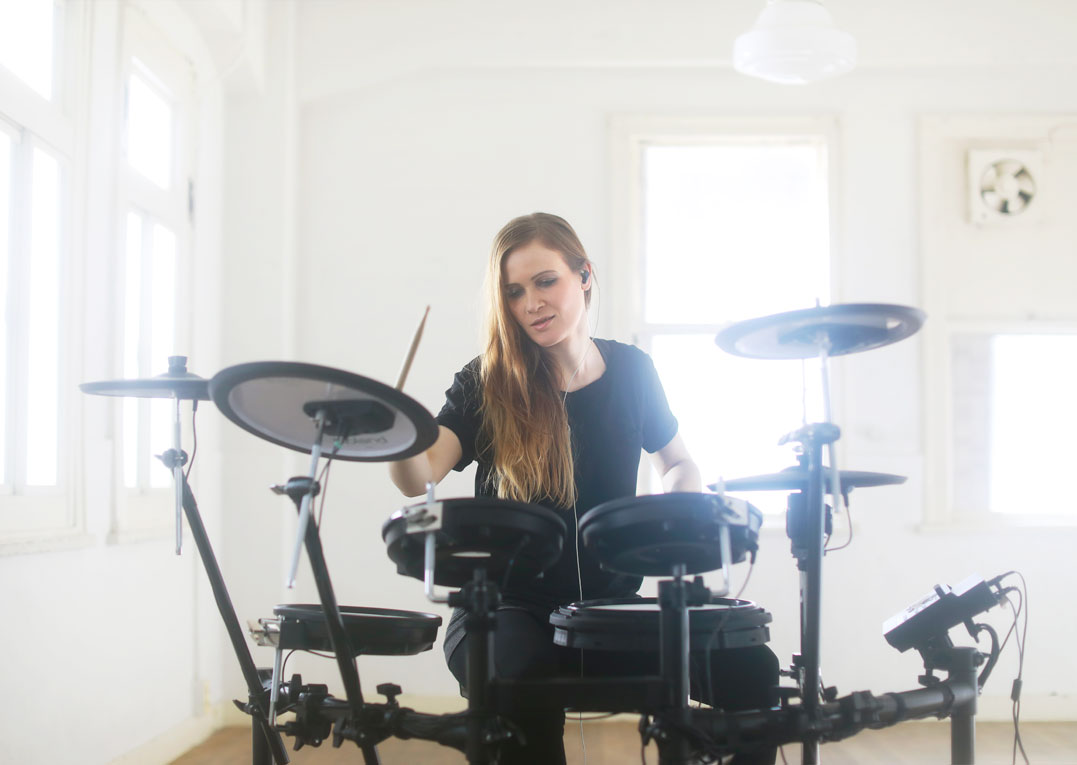 Deepen Your Sense of Groove
The Time Check mode develops your accuracy when playing to a click track. The number of accurate strikes is shown as a percentage value, and the screen indicates whether your pad strikes were on, ahead or behind the beat. Used often, Time Check is an invaluable aid to working the groove.
Fine-Tune Your Internal Timing
Quiet Count mode helps refine your 'internal' sense of time and tempo. For the first few measures, the click is heard at the specified volume, but for the next few measures the click cuts out. During the silenced bars, you will rely on your internal sense of timing, aiming to stay in time as the click returns. Your internal metronome will grow stronger the more you use it.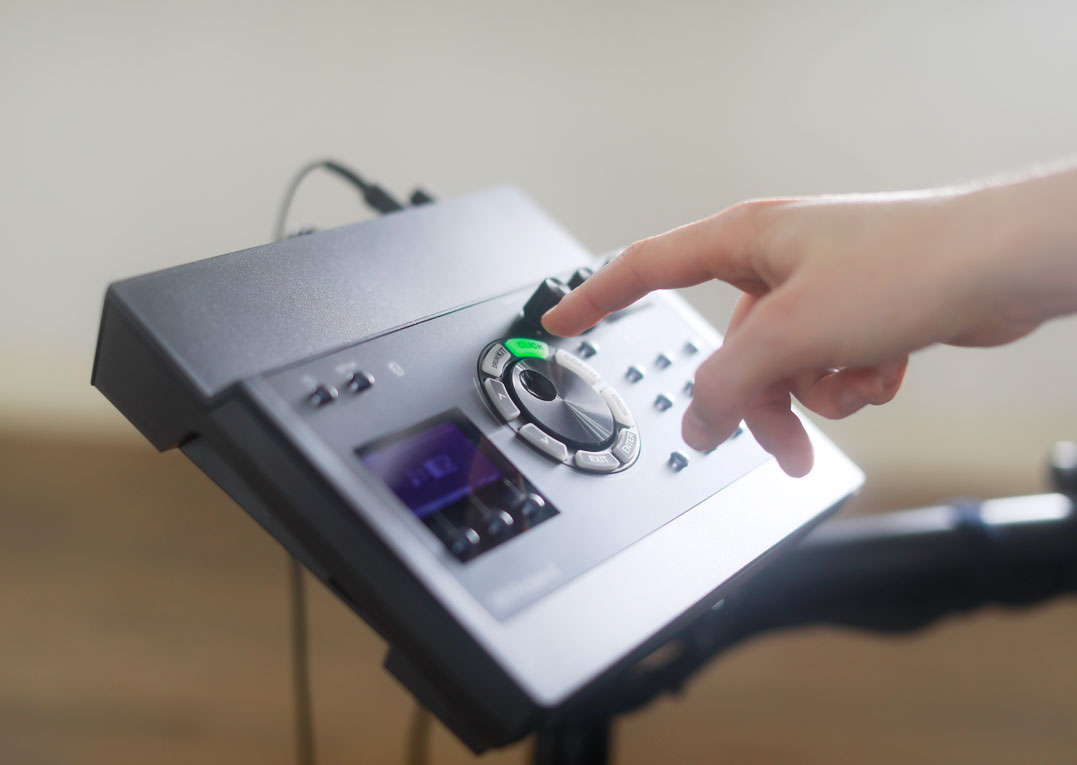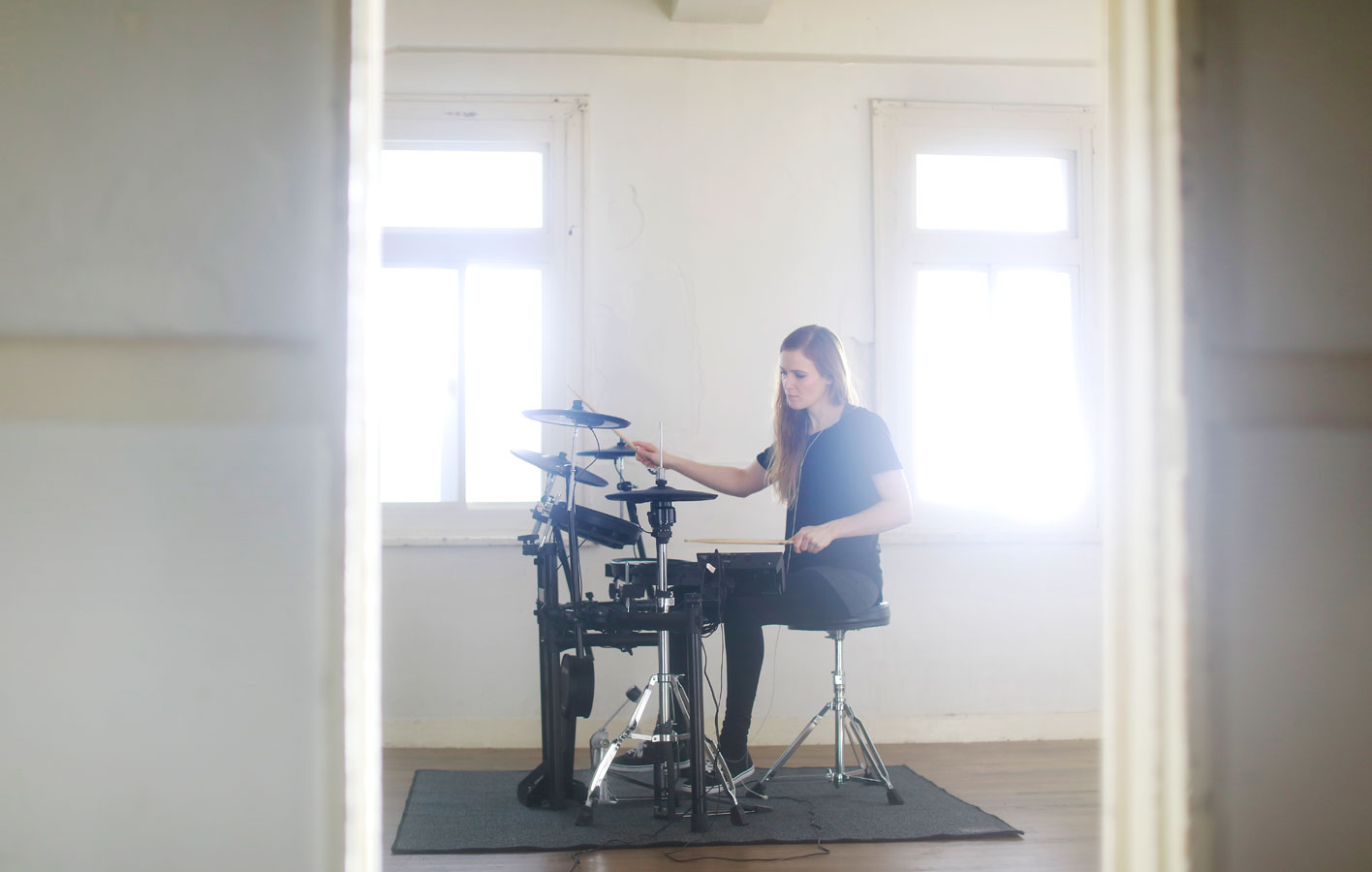 Effective Warmup Routines Made Easy
WarmUp mode makes your daily practice sessions more enjoyable – which means you're more likely to do them. Choose to warm up over five, ten or fifteen minutes, with varying rates of difficulty, and then select a tempo. A range of exercises will then prepare you for some serious drumming, including changes to rhythm type, changes to tempo and evaluating the accuracy of your playing. At the end, you'll get an overall grade – which you'll want to improve on.
Preparing To Play Live
When rehearsing, it's important to play with the same familiar drum sounds that you'll be using on stage. The TD-17 includes a variety of expressive modelled drum sounds inherited from the flagship TD-50, so you'll be sure to find the perfect drum sound as you prepare for the gig.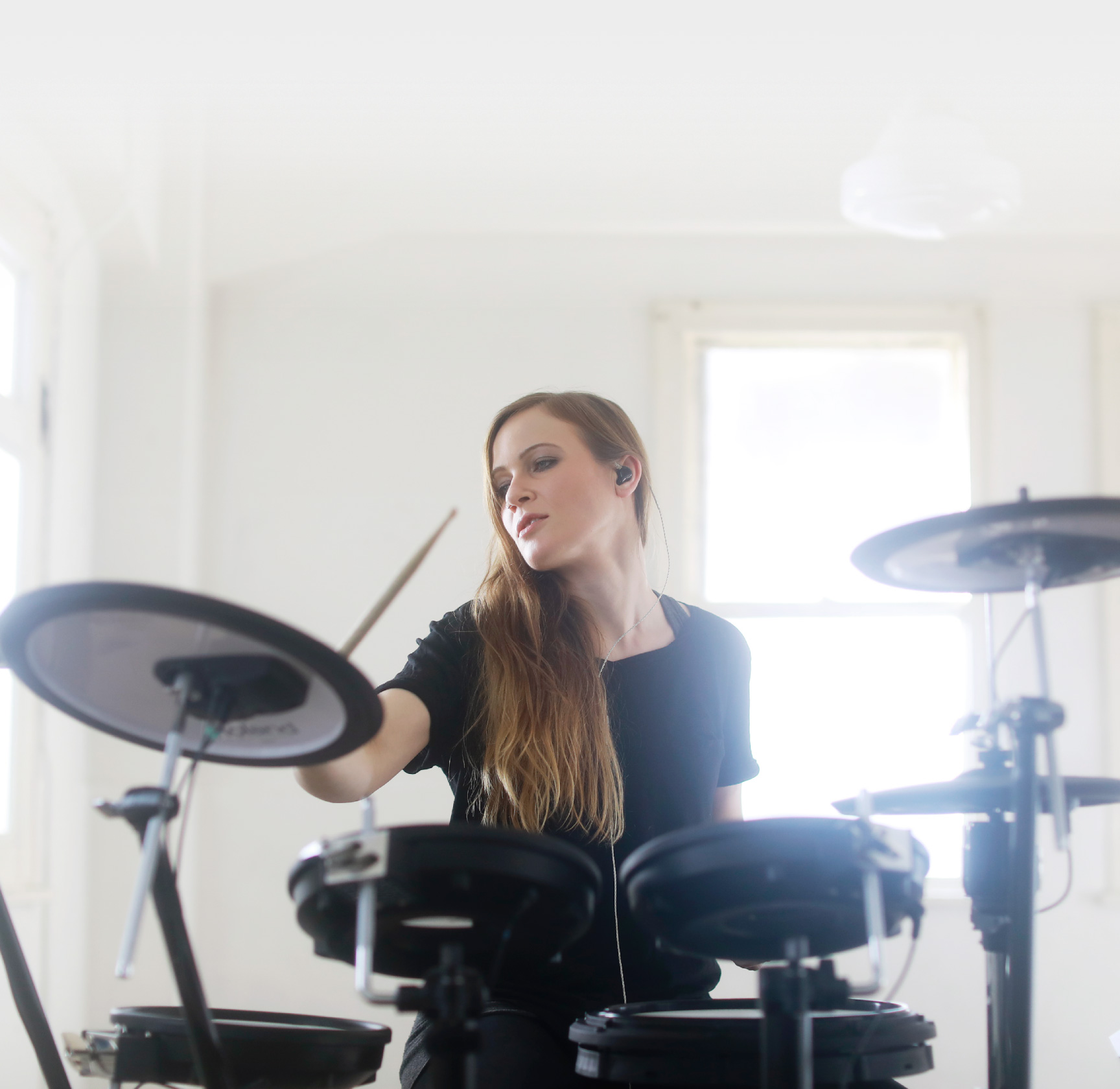 Learn More about Drum Kit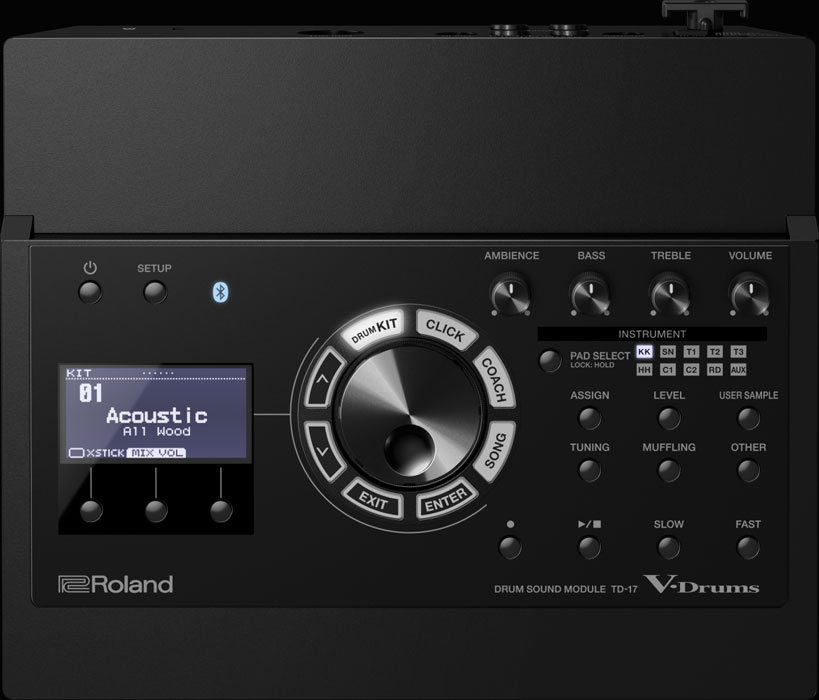 Find the Perfect Kit for the Music You Play
The TD-17 module includes 50 premium quality drumkits for a range of professional musical scenarios. The warm, wooden vibes of 'Acoustic'. The small-but-tight 'Compact' which captures the sound of smaller stages. The wide-open expanse of 'Arena Stage'. The clarity of "Studio" which is perfect for recording. The richness of "Fat Rock" or the intensity of "Speed Metal"…whatever music gets you going, the TD-17 will help you get there.
Get To Know Your Gig Venue – Before You Arrive
Before the gig, become familiar with the acoustics of the venue you'll be performing at. Use the onboard reverb and ambience of the TD-17 module to simulate the sound and become acclimatized to the venue – all from the comfort of your home.
Create Your Very Own Signature Drum Kit
Today's pro drummers craft their signature drum sounds by layering many sound elements; a snare sound is made by layering different snare sounds, each with their respective attack elements, ambience and so on. The TD-17 also lets you create your signature drum kit, by using onboard pitch control, EQ, effects and more.
Import Samples and Sound Just Like the Record
For some performances, you simply have to use a specific sound. The TD-17 module can import samples so you can trigger original single-shot drum samples, or introduce entire audio phrases, sequences or vocals. Imported samples can even be mixed and layered with internal TD-17 sounds, to create a powerful and full drum sound that matches the real thing.
Learn At Your Own Pace with Online Lessons and Desktop Applications
Aside from studying with a drum teacher, there are plenty of online drum lessons or computer-based learning methods. The TD-17 is designed to help you improve – however you like to learn.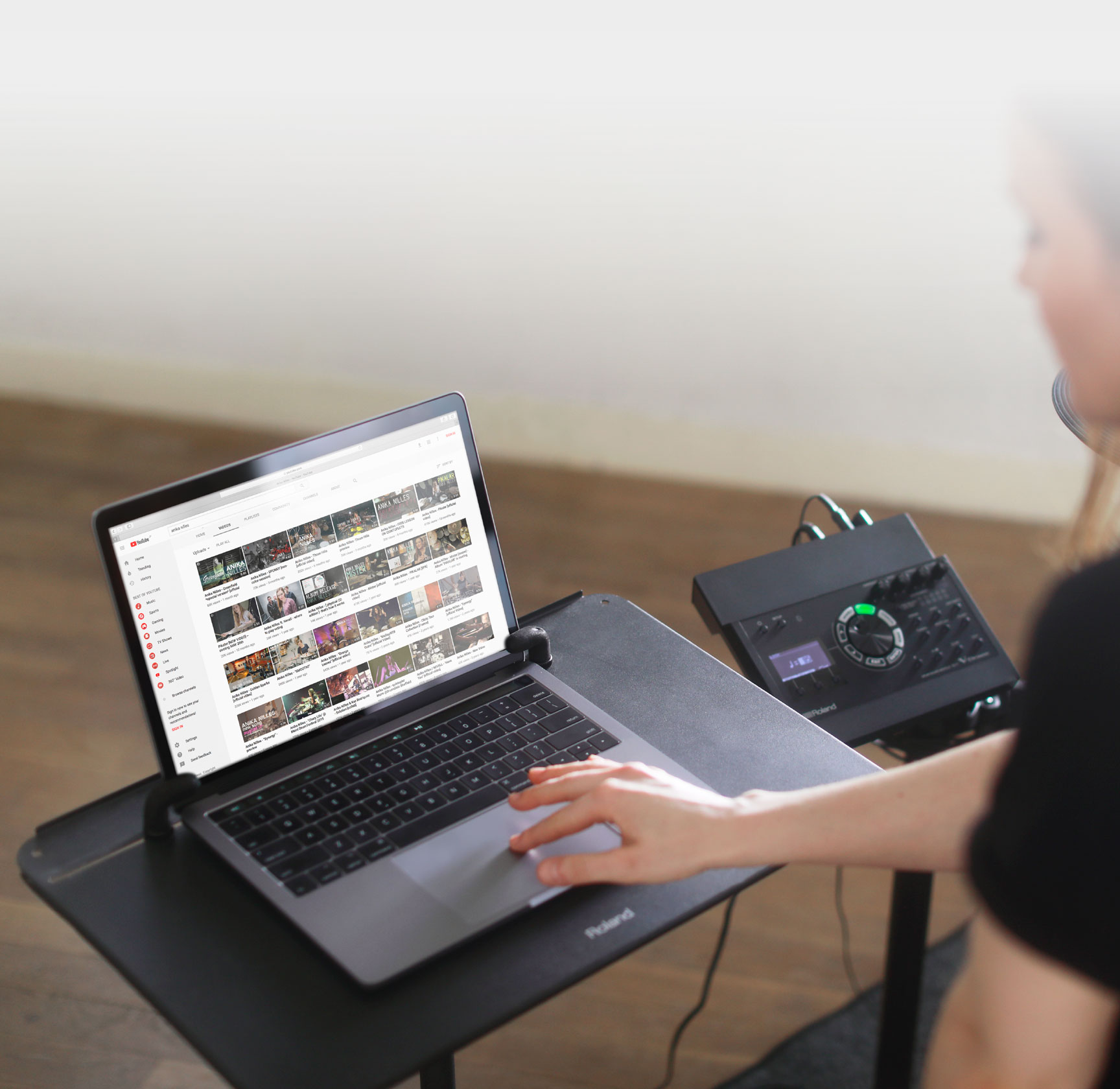 Learn More about Using the Kit with Online Lessons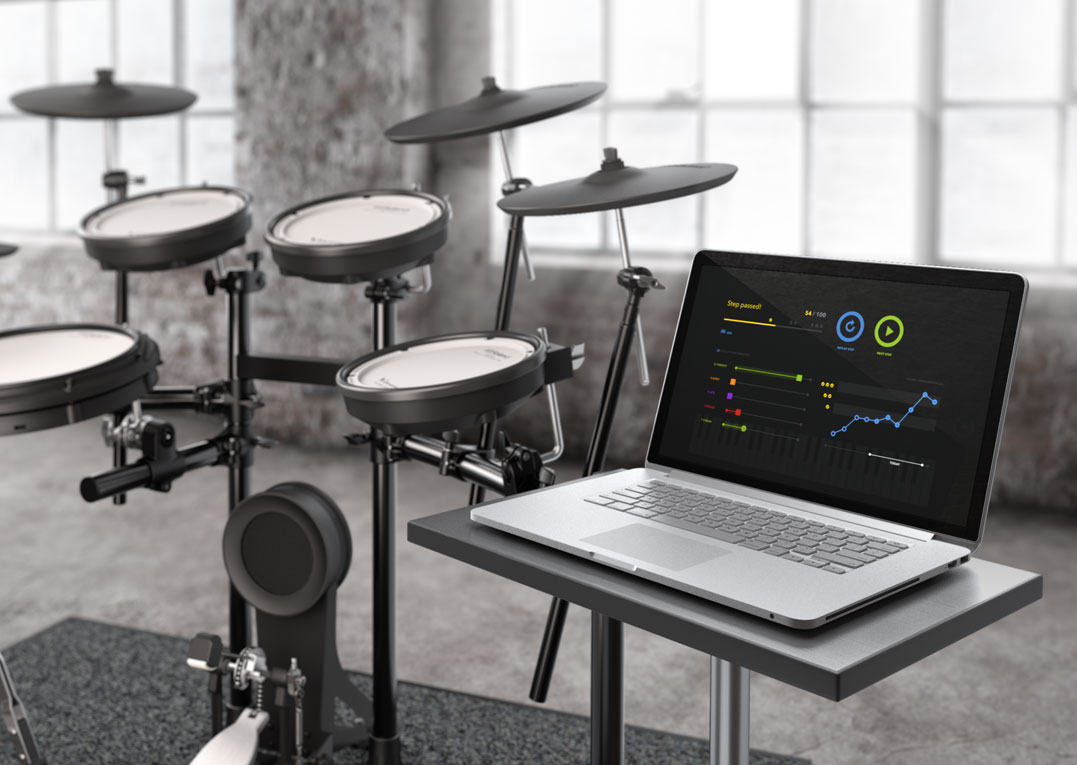 Have Fun Improving – With Melodics
Have fun and become a better drummer by downloading Melodics for V-Drums: a free application for Windows or Mac computers. With a series of free drum lessons that develop your sense of rhythm, timing, and muscle memory, subscribers can also access additional premium content including over 70 lessons, with more being added each week.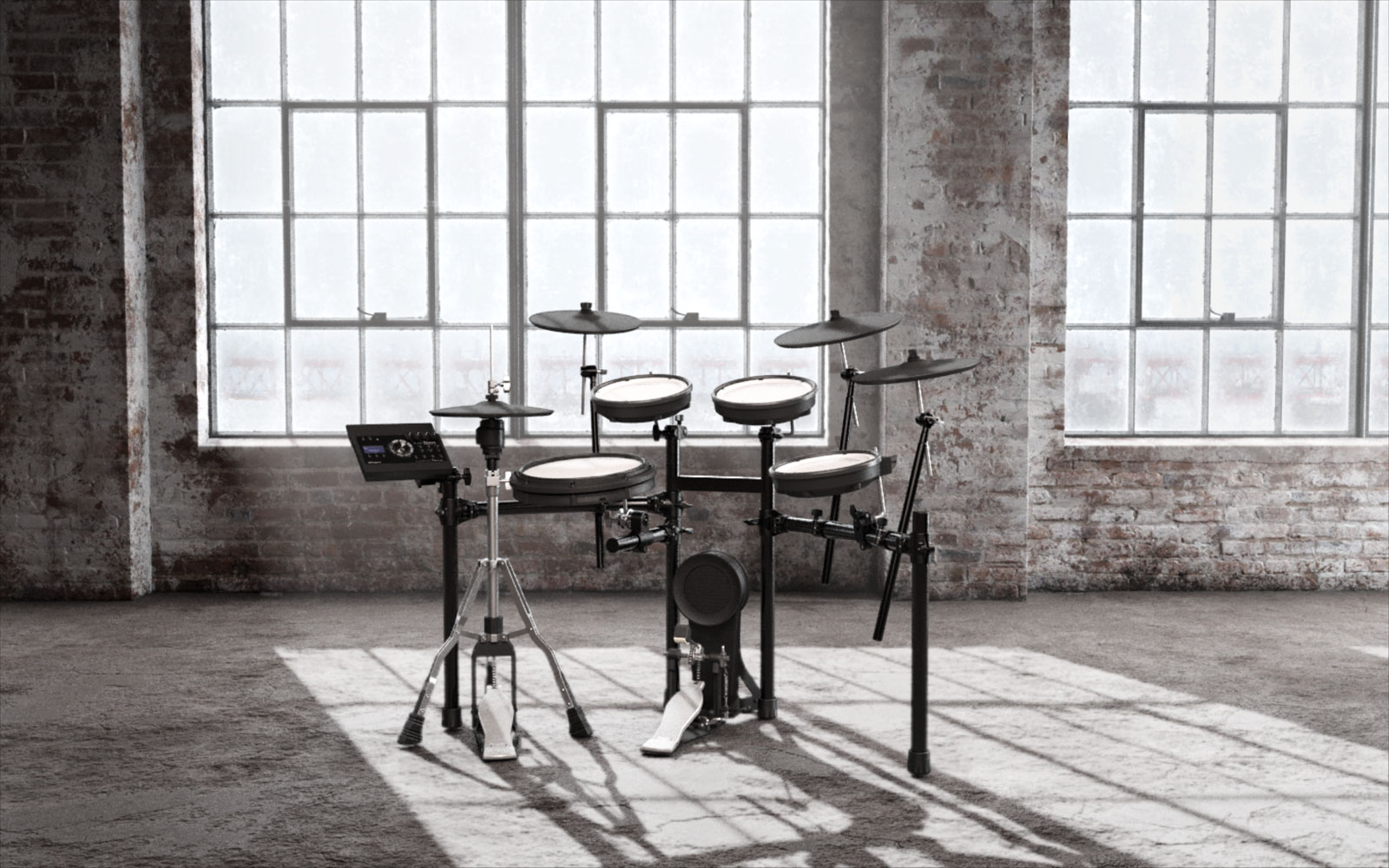 Performance under Pressure, For Years to Come
Roland V-Drums are built to be reliable – from the sound module, to the pads, right down to the pedals; each component must deliver, across every scenario and in every performance. The pads and pedals used in the TD-17 series are engineered to take a beating, but their playability also endures. And as your skills and ambitions grow, you can expand your TD-17 by adding an extra crash cymbal or second snare – safe in the knowledge that you're using the same durable components favored by pro drummers.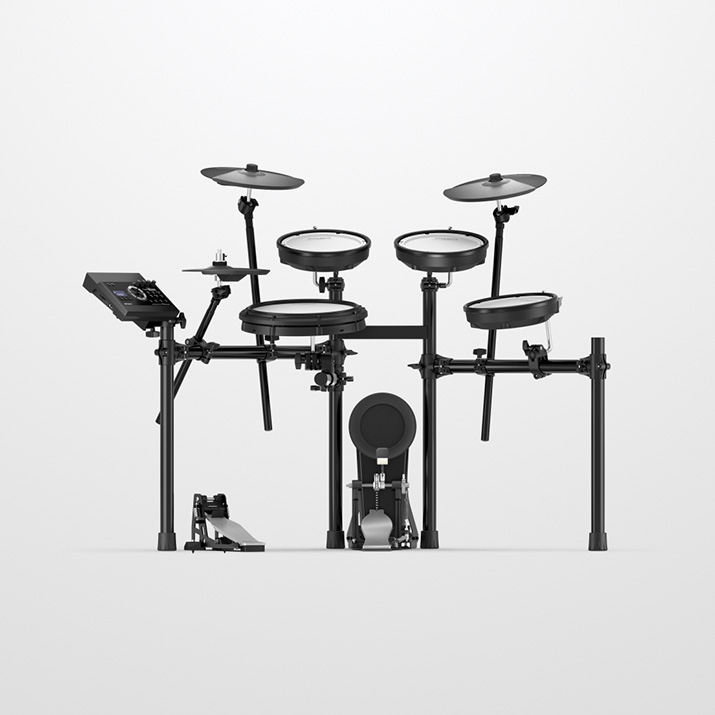 TD-17KV-L
Sound Module: TD-17-L x 1; Snare: PDX-12 x 1; Tom: PDX-8 x 3; Hi-Hat: CY-5 x 1; Hi-Hat control pedal: FD-9 x 1; Crash: CY-8 x 1; Ride: CY-8 x 1; Kick: KD-10 x 1; Drum Stand: MDS-4V x 1
*This kit is distributed in limited countries.
View Product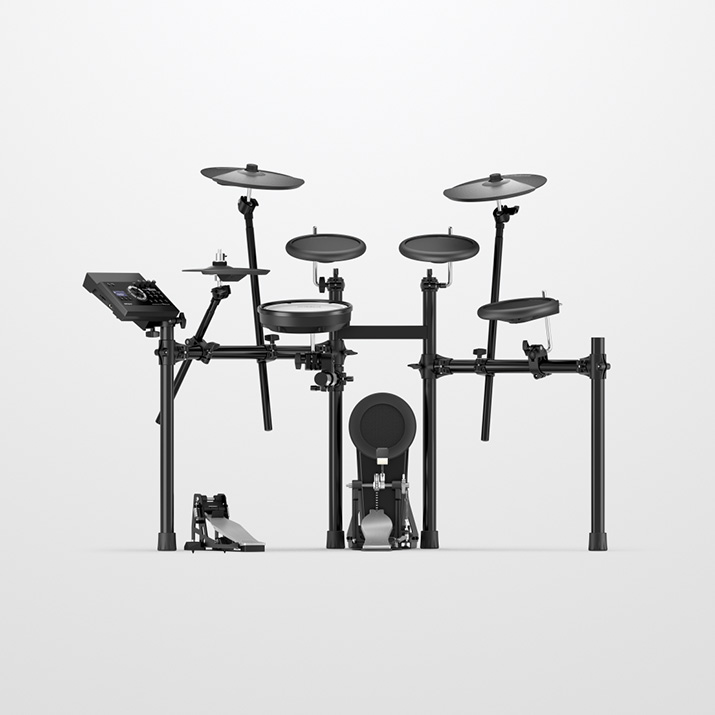 TD-17K-L
Sound Module: TD-17-L x 1; Snare: PDX-8 x 1; Tom: PD-8A x 3; Hi-hat: CY-5 x 1; Hi-hat control pedal: FD-9 x 1; Crash: CY-8 x 1; Ride: CY-8 x 1; Kick: KD-10 x 1; Drum Stand: MDS-4V x 1
View Product